Antiquorum Auctioneers, the world's premier auctioneers of modern and vintage timepieces, is pleased to present its spring auction of "Important Modern & Vintage Timepieces featuring the Emperor's collection" to be held on Sunday, May 14th at The Grand Hotel Kempinski. Collectors can look forward to bidding on 554 outstanding modern and vintage timepieces. Previews will be held in Taipei, Hong Kong and Geneva.
The highlight of the sale is the "Emperor's collection". Assembled over twenty years by the father of the consignor, he put together 80 pieces of some of the most magnificent, museum quality timepieces, most acquired at auction around 1967 to 1975.
Some of the highlights are:
The only 2 known remaining musical automaton mandolins (one in the Rolex Hans Wilsdorf collection, the other at the Patek Philippe museum) made by Piguet & Meylan, Geneva, No. 7083, circa 1820. Magnificent and extremely rare 18K gold and enamel pearl-set quarter-repeating musical automaton watch, in the form of a Neapolitan mandolin, playing every hour or at will, made for the Chinese market.
(estimate CHF 1'200'000/2'200'000 each)
Attributed to Moulinié, Bautte & Cie, Geneva, circa 1806, made for the Chinese market. Exceptional and
extremely rare 18K gold and enamel, pearl-set, combined watch and perfume sprinkler, in form of
flintlock pistol. (estimate CHF 350'000/550'000)
"The Seasons". Piguet & Capt, Geneva, the box by Rémond & Cie, the painting on enamel attributed to
Jean-Louis Richter, circa 1810
Extremely fine and rare 18K gold and enamel snuff-box with automaton scene and a built-in watch, made
for the Chinese market. (estimate CHF 200'000/400'000)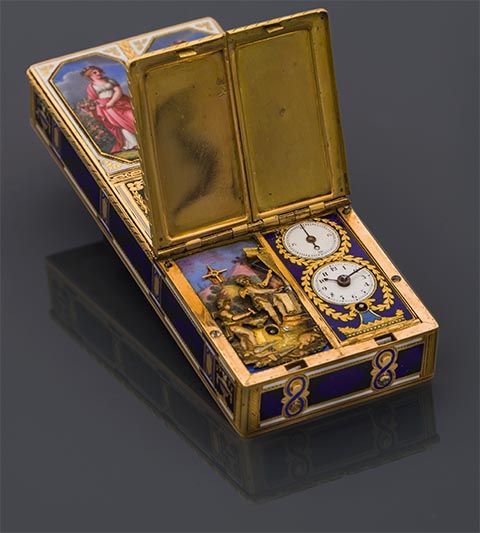 Bouquet of Flowers
Attributed to Piguet & Meylan, the box by Jean-Georges Rémond, the musical movement attributed to François Nicole, Geneva, circa 1815-1820
Extremely fine and equally rare, 18K gold and enamel snuff-box with concealed watch and independent musical movement. (estimate CHF 150'000/250'000)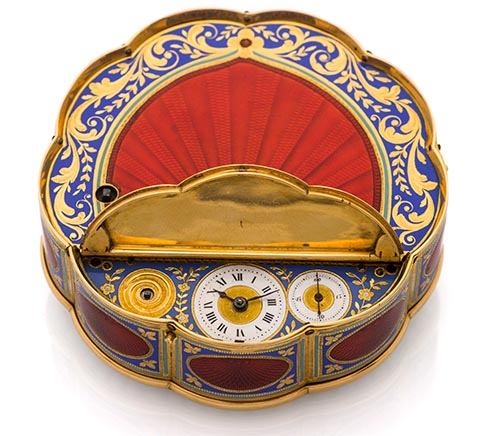 For wristwatch collectors, there will also be on offer:
Patek ref. 1518, from the original Italian family and recently serviced by Patek Philippe, the so called the lucky 1518, rescued from a fire that burnt the house to the ground, the watch was hidden in the adjacent laundry room and survived unscathed (Estimate CHF 200/300'000)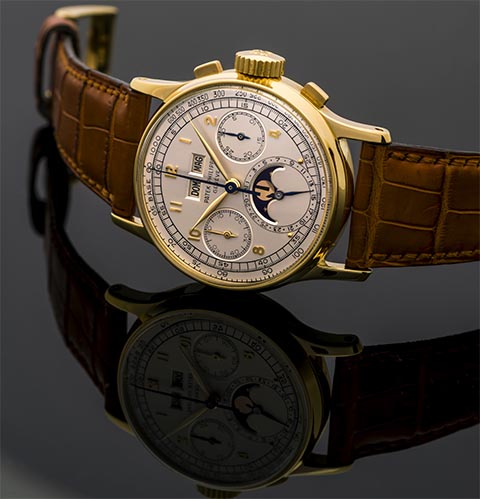 Rolex ref 6265 Quaboos, never offered on the market, with rare green Omani swords and brown subcounters
(Estimate CHF 200/300'000)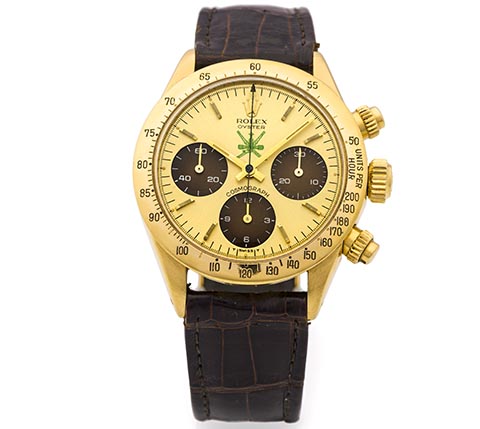 Rolex ref 1665 Janus IV, personal watch of famous navigator and Comex diver Philippe Jeantot (Estimate
CHF 40/60'000)
Rolex ref 1665, Prototype SeaDweller with single red line, made in six known examples (Estimate CHF
300/500'000)
Patek Ref. 866, an extremely fine and unique enamel pocket watch with naval scene by Suzanne Rohr,
from the original German family with its original certificate (Estimate CHF 60/100'000)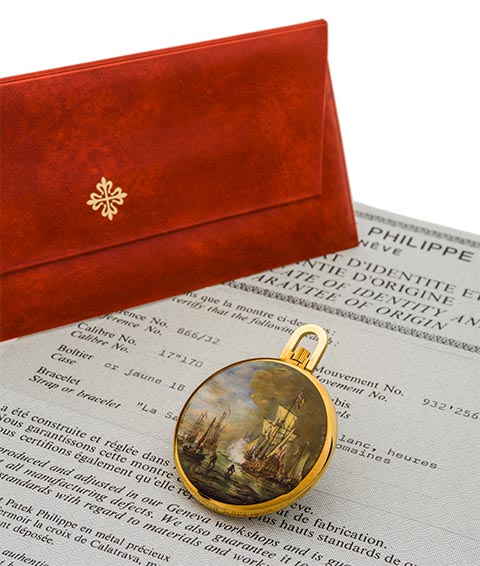 Patek Philippe, Ref. 1463, yellow gold waterproof chronograph made in 1950. (Estimate CHF 100/150'000)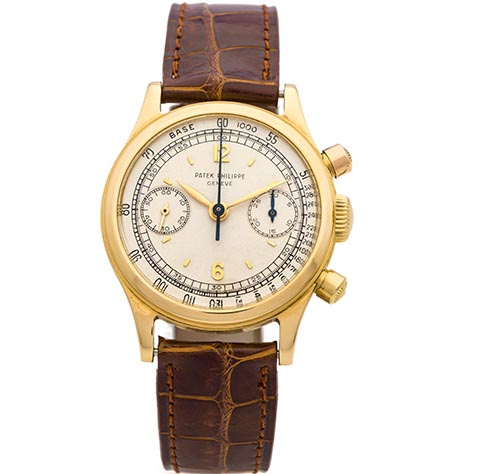 Antiquorum Genève SA – 3, Rue du Mont Blanc – 1201 Geneve – Tel: +41 22 9092850
For more information: info@antiquorum.swiss
or visit our website WWW.ANTIQUORUM.SWISS
About Antiquorum: Established in Geneva in 1974, Antiquorum has carved its own unparalleled
niche in the auction world through its focused expertise in horology and by cultivating a thriving
collector's market for timepieces worldwide. The world's premier auctioneer of fine modern and
vintage timepieces has set world records for auction sales and holds approximately ten auctions a
year in Geneva and Hong Kong, with previews held in major cities worldwide. Antiquorum maintains
offices in Beijing, London, Milan, Munich, Moscow, Paris, Shanghai and Tokyo.
Date Auction:
Sunday, May 14th 2017
Grand Hotel Kempinski
Ballroom A & B
Quai du Mont Blanc 19
1211 Geneve
Geneva Preview
May 11th 2017 – 10 a.m. – 6 p.m.
May 12th 2017 – 10 a.m. – 7 p.m.
May 13th 2017 – 10 a.m. – 7 p.m.
May 14th 2017 – 9 a.m. – 5 p.m.