Important Modern & Vintage Timepieces – Classic Cars – Jewels, Arts & Luxury Accessories
AUCTION RESULTS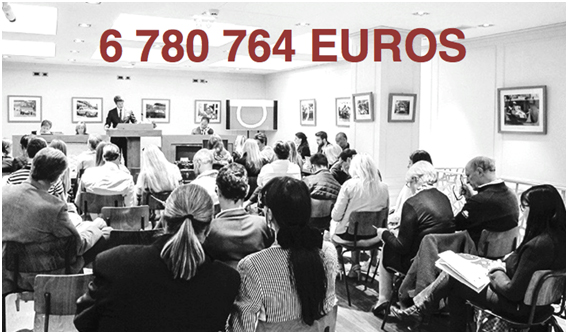 Monaco, 19 – 21 July
Monte-Carlo – For the first time in its history, the auction house Antiquorum has taken up its quarters within the Principality of Monaco. In partnership with Monaco Legend Group, the Swiss auction house has moved into the heart of the Rock in the mythical Le Victoria building. Offering for sale a prestigious selection of important timepieces & jewelry as well as an exceptional set of art & luxury goods, Antiquorum has taken up the challenge of seducing the demanding Monegasque scene. The three sales sessions of 19, 20 and 21 July totaled no less than € 6,780,764 with 850 bidders of 35 different nationalities, a good result for a first opus.
"The success of this first auction Monegasque can only encourage our house to continue its developments and in particular to further anchor its involvement in Monaco. We are proud to have met the expectations of the international collectors present during these sales and plan to do everything possible to make this summer rendezvous a must", says Romain Réa, CEO Antiquorum Management Ltd.
Giulio De Lucia Chairman of Antiquorum Management Ltd commented: "We are absolutely happy about the result of this first Monaco experience. Besides all of this happening in a special environment and atmosphere and besides having achieved some very good sale results, we have successfully begun a focused development of our product categories towards luxury products such as jewelry, luxury bags, and vintage pens. In terms of regional and strategic development this has been a first important step. More will come. Stay tuned."
"Let me also thank our strategic partner Monaco Legend Group. The cooperation between the different teams worked very well and played an important role for the success of this first auction. We are all very exited and looking forward to a successful Monaco II auction."
Important MODERN & VINTAGE TIMEPIECES
During the opening session of the auction on July 19, 350 watches were offered for auction for a total of € 3,522,925. No fewer than nine lots exceeded € 50 000, of which six lots have crossed the 100 000 € and one lot has even reached 1 million €.
Around a refined cocktail, in a convivial atmosphere, the auctions quickly became a hot spot for rendezvous. The Rolex offered for sales, including some exceptional models, have especially attracted the enthusiasts.
Thus a Paul Newman reference 6262 Full set is awarded 115,200 € (lot 42). A few lots later another Daytona 6263 with a beautiful tropical dial flies at 102,400 € (lot 108). The auction does not stop in such good way since a Comex full set exceeds its high estimate reaching the 153 600 € (lot 211). Finally the exceptional Paul Newman reference 6239 in yellow gold with a rare English punch flies to 243 200 € (lot 256) while the famous chronograph triple-day Jean-Claude Killy reference 6236 borders the 200 000 € (lot 276 for € 192,000).
However, Rolex was not the only brand presented to attract the interest of collectors. The top lot of the sale, a Patek Philippe, reference 5208, originally intended to be offered to President Vladimir Putin has indeed exceeded the million (lot 239 for € 1,062,000).
The magnificent Jaeger-LeCoultre driver watches from the 1930s, genuine pieces of museum value, both exceeded their high estimates. The Duoplan thus reached 26 880 € while the second in gold and steel was hammered at 19 200 € (lots 107 & 107b).
In addition to these successes are the excellent results for a rare Tudor Snowflake of the French Navy present in the registers of the Navy's watchmaker sold for 28 160 € (lot 222) and for a Franck Muller repeater minutes produced in only 20 copies awarded with 33,280 € (lot131).
Important JEWELERY – ART & LUXURY OBJECTS
The second session of the auction opened on 20 July with the presentation of magnificent pieces of jewelry appraised by Maison Gros & Delettrez, partner of the event. The sale had a strong attraction totaling 2,202,955 € for 310 lots. Six lots exceeded € 50,000, of which three exceeded € 500,000.
"The great successes of this sale attest the interest of international collectors for precious stones. We are proud of the results of this first Monegasque auction with more than three lots worth almost half a million euros", commented Claude Cohen,
Chairman of Monaco Legend Group
The auction went particularly well for precious stones, including a remarkable ring, decorated with a Birman ruby, old mine, 7,613 cts nicely enhanced by a diamond-paved mount that was sold for 428 800 € (Lot 416). An important pairing of Birman rubies of 16.41 cts also exceeded half a million, making 524 800 € (lot 445) and a magnificent ring adorned with a ruby of 6,11 cts soared to 460 800 € (lot 444 b). Finally a magnificent garnet with change of colors of 15,64 cts made 115,200 € (lot 556).
The diamond frames have also met a fine craze with a superb gold necklace entirely decorated with diamonds adorned in the center of an important emerald sold for 50,560 € (lot 438). It should also be noted that the auction of a remarkable rigid bracelet adorned with diamonds exceeded its high estimate and reach 53,760 € (lot 546).
Lastly, the rare selection of Art and Luxury items completing the sale, recorded good records with a total of 1,232,010 € for only 94 lots.
Thus a very rare canvas by Marc Chagall, Village Scene with Blue Animal, around 1968 was sold for 1 024 000 € (lot 700); A beautiful Birkin HERMES Paris bag in emerald green crocodile left the auction for 40 960 € (lot 788) and a superb 'Dune Buggy' exceeded its high estimate reaching 34 220 € (lot 276 C).
For further information and HD images please contact:
Antiquorum media:
Laetitia Merendon – Telephone: +33 (0)1 42 61 43 44 – E-Mail: social@antiquorum.swiss
About Antiquorum and Monaco Legend Group
Founded in Geneva in 1974, Antiquorum has been at the forefront, worldwide, of the very first auctions dedicated to watches. Antiquorum has distinguished itself by cultivating a growing market dedicated to the collection of exceptional timepieces. In 2015, Antiquorum Management Ltd was formed following the acquisition of all global operations of the original Antiquorum company founded in 1974, with the exception of New York-based Antiquorum USA, which operates as a company Independent and solitary. On April 2, 2017, the Board of Directors of Antiquorum Management Ltd. appointed the French expert in fine watchmaking, Romain Réa, to become its CEO with the mission of further developing the core business of Antiquorum and strengthening the position of the Antiquorum brand on the world market of vintage watches. In this development perspective, Romain Réa and Antiquorum have chosen to join forces with the Monaco Legend Group, in order to deploy unprecedented auctions in a place as strategic as Monte Carlo. Born of the passion of a Monaco entrepreneur for beautiful cars, Monaco Legend Group has gradually enriched itself with a varied panel of art and collection objects, giving birth to a superb auction room.